Farm cooking class with spice tour in Zanzibar
Zanzibar culinary farm traditional, authentic cooking classes are available for everyone except for infants.
Tangawizi Cooking Class gives you opportunity of learning cooking with spices ,before cooking class we visit Stone town market for tour and shopping together then you will be guided in the spice farm by our friendly spice tour guide to get the experience and learn on uses and benefits of spices .
Get prepared Cooking xlass with spice tour is interesting.!
Zanzibar was well known as the spice island during the nineteenth century. Clove cultivating specifically blassed in the island in view of the rich soils and heat and humidity. Later on, ginger, vanilla, cardamom, pepper, cinnamon, and nutmeg were presented for huge scope development. The spice tour is 1-1.5 hrs
Zanzibar spice tour and farm cooking class is one of the unique cooking in Zanzibar, we use 24 Zanzibar Taxi which is comfy and convenient .
Tour starts at 9.30am till 2.00 Or from 2.30am till 6.30pm
.Price is per person is reasonable one!
1 person -$50
2-5 persons $40
6-8 persons $25
Price includes, market tour, spice tour, learning of four dishes, , lunch of 4 dishes, transfers from/to Stone townby 24 Taxi and bottled water.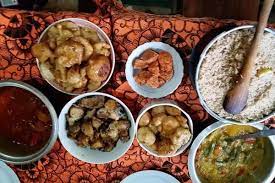 Would you like to try out as many Zanzibar recipe as you can, we have downloadable cookbook on Amazon , 20 top recipes from Zanzibar you will enjoy