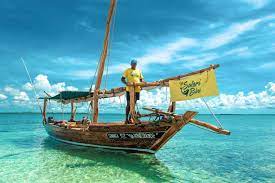 Safari Blue Zanzibar
Its a full day boat tour branded by Eleanor Griplas. The boats are traditional hand-built sailing dhows finished to the very highest standards of comfort and safety. The tour covers the key attractions on the South West by protected Menai Bay Conservation. The Safari Blue in Zanzibar is one the most popular excursions in East Africa and has been running since 1996.
One of the best Zanzibari tourist attraction, the Safari Blue Boat Tour it does guarantees relaxation and a fantastic day trip. It combines the refreshing experience of a party boat, a full breathtaking snorkeling experience, .
Book your Safari Blue with us